The Daintree Rainforest is Australia's most gorgeous tropical wonderland: an ancient, sprawling rainforest with enough biodiversity and history to rival the great Amazon itself!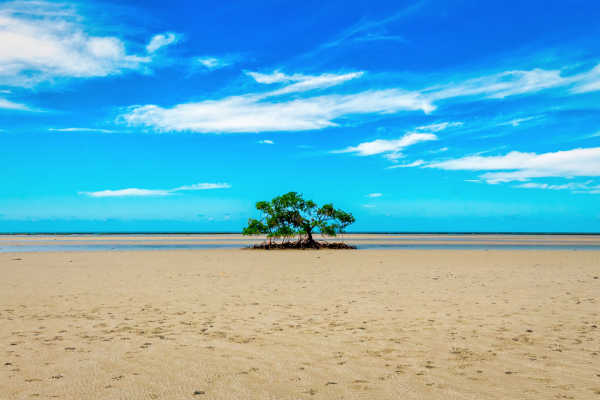 In fact, it's actually at least 100 million years older than the Amazon, and is home to thousands of unique species that are ubiquitous to the forest itself.
With so much incredible flora and fauna to see in one trip, it makes sense that people from across the world want to see this stunning tropical gem. They often ask whether they can traverse it alone, meandering around its giant trees and bizarre creatures on a serene, solo trek.
The answer is yes: you can visit the Daintree solo! That being said, if you want to truly absorb everything this fascinating part of the world has to offer, there are a variety of tours that teach you about different aspects of the national park and what makes it such an unbelievable part of the world.
To truly experience the Daintree Rainforest for all its natural wonder, why not tag along with one of these awe-inspiring tours?
Go croc-spotting on a river cruise

The flowing waters and muddy forest floor of the Daintree play host to one of history's longest-standing and most formidable predators, the saltwater crocodile, and there is no better place in Queensland to spot a few salties than on a Daintree Rainforest river cruise. Sounds scary? Not at all! Passengers are perfectly safe on the river cruise, and an experienced local biologist will teach you about these prehistoric beasts as well as other reptiles, birds and insects that inhabit the forest.

Chill & unwind at Cape Tribulation

Cape Tribulation has long been renowned as one of Australia's most beautiful beaches, with stunning cobalt waters leading onto a sandy shore that then backs onto the dense forest itself. Cape Tribulation is the perfect place to chill, kick back and take a rest after a morning's forest trekking.

Learn about Indigenous history in the Mossman Gorge

The Daintree Rainforest and adjoining Mossman Gorge are incredibly important to the local Kuku Yalanji people, and they run tours in the region in which they teach you about the stunning area and its connection to the people.
So, you can do the Daintree alone, but with so much to learn in one place, it's best to tag along with the people that know it better than anyone else!
Destination: Atherton Tablelands

Duration: 2 Days

Tour type: Short Break Tour

Available Now

From $389