The Great Barrier Reef is one of Australia's most beautiful attractions.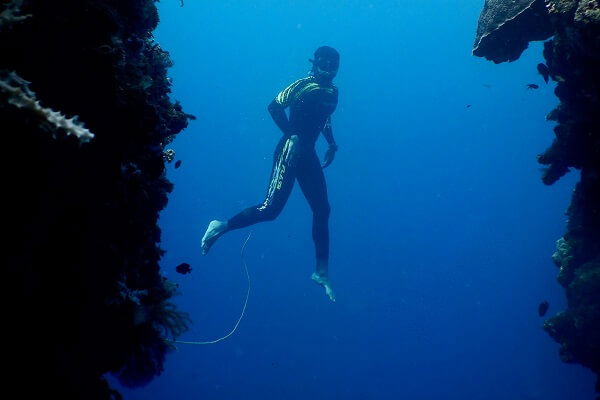 When snorkelling (and diving) in the Great Barrier Reef, it's essential to wear a wetsuit! The wetsuits will keep you protected from any cuts or scratches you might get if you swim by the coral.
Also, the wetsuits are similar to stinger suits and will protect you from the stings of jellyfish. An added bonus is that if you're snorkelling in winter, the wetsuits keep you nice and warm while you're in the cool water. So, there's no need to worry about being cold while exploring the underwater world in winter.
Can I hire a wetsuit?
You certainly can hire a wetsuit! You can hire these from local stores or if you book a snorkelling tour for the Great Barrier Reef, a wetsuit is sometimes provided (or you can hire/borrow one on the boat).
There is a selection of different sizes available from unisex, women, men, and children.
Where can I go snorkelling in the Great Barrier Reef?
There is a range of different reefs you can snorkel in. A few popular ones are Hastings Reef, Saxon Reef, Breaking Patches Reef, and Norman Reef.
What marine life can I see while snorkelling?
There is a slight change of marine life you can see at different reefs while snorkelling. The reef fish are some of the most popular and colourful marine life you'll see! The clownfish is certainly the most famous, also known as our cute little friend Nemo.
You may also come across some reef sharks, sea turtles, and the unique dugong, known as the cow of the sea. Don't fear if you do see a reef shark as they aren't aggressive towards humans unless they're provoked.
Are there pontoons on the Great Barrier Reef?
There are pontoons on the Great Barrier Reef, and you can book a tour that takes you to one of the three available. On this tour, you'll go to the Moore Reef Pontoon, and you have the option to go snorkelling, scuba diving, helmet diving, or go on the glass bottom boat. There are other fun activities available, like fish feeding, swimming in the enclosed pool for children, and gliding from the waterslide. There's also a delicious buffet lunch, tea and coffee.
Booking a tour is a great way to learn how to snorkel! There is an introductory lesson before you explore the underwater paradise.
Destination: Cairns

Duration: 2 Days

Tour type: Day Tour

Available Now

From $395