Experience one of the best sunsets Australia has to offer in the middle of the Red Desert.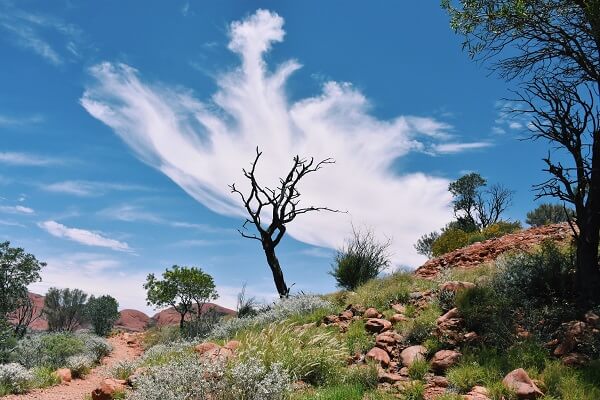 Uluru has a range of different viewing platforms for sunset and even sunrise. The most popular viewing platform in Uluru for sunset is Talinguru Nyakunytjaku. From this viewing point, you'll be able to see Uluru and even Kata Tjuta.
What can I do before sunset?
There is plenty to do around Uluru while you wait for the sun to go down over the giant red rock.
Sunrise
You can start the day early and watch the sunrise over Uluru! If you book this sunrise tour, you'll go to a viewing platform and watch the colour in the sky change as the sun starts rising. You'll also get to enjoy tea or coffee to keep you warm and awake.
Afterwards, you'll hear about the Aboriginal tribes who have lived in the area for thousands of years before going to a different viewing point. From the viewing platform, you'll see Kata Tujta, which is a large group of domed rock formations.
Next, you'll do a quick walk through Walpa Gorge to see a range of wildlife and plants. The tour will conclude before midday and you still have the whole day ahead of you to explore further or relax before sunset!
Sacred sites before sunset
Discover and learn about the history of the sacred sites around the giant red rock. You can do the Uluru Base Walk which is highly recommended to do early hours in the morning. Or you can book a tour which takes you around the base on a coach.
The tour goes to other sacred sites where you can see Aboriginal rock paintings at Mutitjulu Waterhole. You will also visit the Kata Tjuta Cultural Centre. At the centre, there is a range of beautiful ceramics, paintings, and woodwork by the Anangu people who are the traditional owners of the land.
Lucky for you, this tour also includes the sunset over Uluru! You will make your way to the viewing platform while waiting for the most spectacular sunset. You'll watch the sky slowly change colours, while you have some delicious canapès and local wine.
The sunset over Uluru is once in a lifetime experience to have when in the Red Desert. If you only want to see the spectacular sunset, you can check availability on this tour. Then when the end of the day arrives, you can kick back and watch the sunset over Uluru while enjoying a glass of bubbles.
Destination: Alice Springs

Duration: 4 Days

Tour type: Short Break Tour

Available Now

From $1139