Uluru, Australia's incredible monolith jutting out of the red earth, is a rite of passage for anyone who wants to experience the outback for its sheer magnitude and wonder.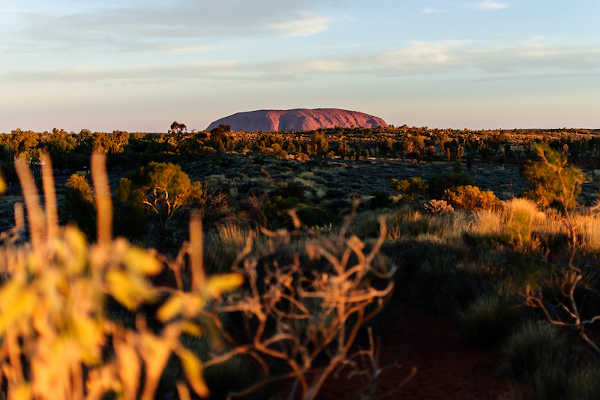 A journey to Uluru and its equally impressive neighbour Kata Tjuta is sure to inspire the senses as you meander around their otherworldly sandstone structures, taking in their stunning beauty as the sun dances off their rich orange hues!
Uluru is right in the Red Centre, meaning it is a place with some serious climatic extremes. The winter months of May to August can be very pleasant with mild days hovering around the 20° mark and then dipping to an incredibly chilly below zero in the evening.
However, the summer months can be absolutely ghastly, with temperatures soaring above 30°C every day!
So, if you've been considering the best time of year to go to this amazing testament to nature's finest handiwork, then you might want to consider heading there in the cooler months in the middle of the year unless, of course, you can handle the absolutely searing heat.
Either way, these incredible experiences await you…
Seeing Uluru in the twilight hours
Sure, Uluru is pretty incredible to see at all times of day, but nothing beats waking up early and seeing it at sunrise or marvelling upon its magnificent expanse at dusk. It's almost as if it was made to be perfectly complemented by the sun's dazzling rays, with all shades of blue, purple, gold, red and yellow dancing off the rock and floating in the sky above.
We really do recommend seeing this incredible wonder in the twilight hours – there's nothing else like it on Earth!
Journey to Kata Tjuta
Kata Tjuta may not be as instantly recognisable by name or sight as Uluru, but it's an unmissable part of any venture to the Red Centre. The wondrous series of sandstone dome formations look like they have dropped there from outer space, creating a mesmerising sight from afar – and within – Kata Tjuta itself!
One of the ultimate ways to experience this beautiful attraction is to partake in one of the numerous walks that weave around its domes, with the Valley of the Winds walk and Walpa Gorge walk both providing amazing views around the landmark.
Uluru and Kata Tjuta are two of the most awe-inspiring landmarks in Australia, if not the world, and should be up the top of any Aussie travel to-do list!
Related article: When is the best time to visit Uluru?
Destination: Northern Territory

Duration: 8 Days

Tour type: Overland Tour

Available Now

From $1995