Kakadu National Park is a true dreamland, an enormous, prehistoric world of towering waterfalls, iconic rock art sites, magical plunge pools and unique Aussie wildlife in abundance!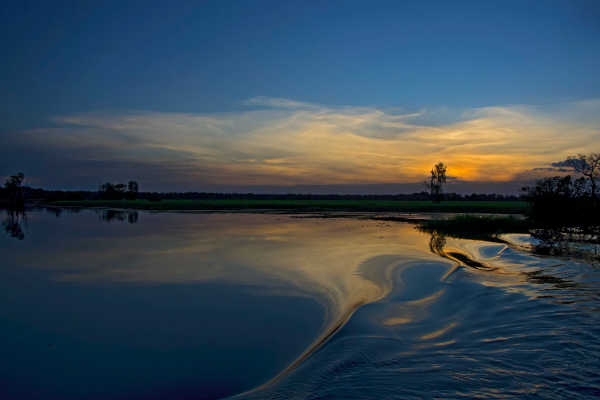 You can most certainly visit Kakadu in the wet season from November to April, and whilst most people choose to visit in the dry season from May to October, they miss out on seeing Kakadu in a most distinctive way.
Sure, if you visit Kakadu in the wet season you will be in for some rain and, perhaps, a good amount of it, too. But that only brings to life the incredible nature of the park, with cascading waterfalls, amazing boat tours on swollen rivers and plenty of wildlife spread around the park's endless waterholes!
Finally, it is a lot cheaper to visit in the wet season and the crowds are fewer, meaning you will get to experience these wonderful attractions without hordes of tourists blocking your view…
Nourlangie
Nourlangie is an incredible sandstone monolith that jumps out of the Kakadu woodland and draws you in like it carries its own magnetic field. But that's only a small part of what makes it so magnificent…
Nourlangie has long been used by the Gun-djeihmi people as a shelter through thousands of wet seasons, and they left their mark there through the creation of some of the world's oldest artforms – the Nourlangie rock art.
These incredible pieces really give you the sense of the peoples' deep connection to the land and their artistic heritage (because, after all, Indigenous art is the oldest continuous artform in the world!).
Gunlom plunge pool
Could there be a more beautiful place in the world to take a well-deserved dip? We really don't think so. Gunlom plunge pool is truly a magnificent place to take a swim, with its gorgeous surroundings and endless Kakadu views making it a special, almost mystifying place to cool off after a morning's hike!
Croc-spotting cruises
The croc-spotting cruises really are magnificent in the wet season, for the simple fact that there is plenty of water to cruise around on! The crocs, Kakadu's most fearsome reptile, are in glorious abundance as they roam the waterways looking for a feast.
Luckily, for you, you will be in the relative safety of a boat with an experienced guide who knows exactly where to find these prehistoric predators.
Related article: The Australian Wet Season
Destination: Darwin

Duration: 1 Day

Tour type: Day Tour

Available Now

From $695