Kakadu National Park in the Top End of Australia is a 20,000 square kilometre region of incredible nature, and significant cultural importance.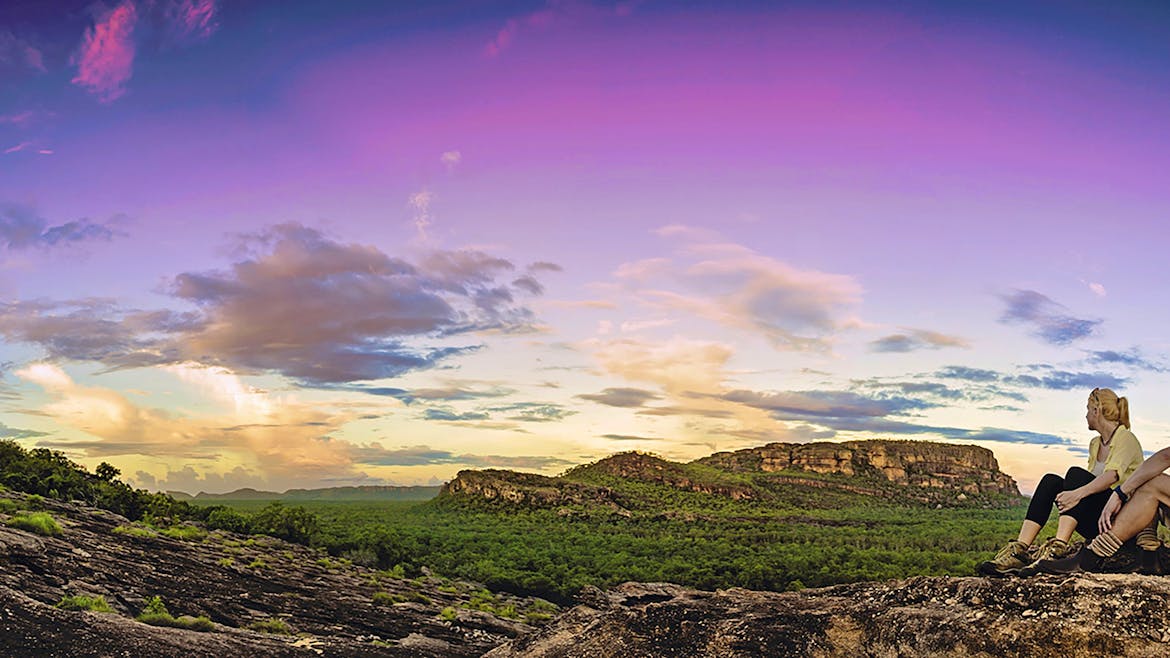 Credit: Tourism NT
It is in Kakadu where you will be thrown into the great outdoors and explore the rich essence and personality of the Australian outback.
Drive 2 hours from Darwin – the capital of the Northern Territory – and enter a world of vast floodplains, open forests, woodlands, gorges and breathtaking, unforgettable views and scenery everywhere you go. This world heritage listed site is rugged terrain, native wildlife, and magnificent sunsets. It is where travellers can connect to nature and escape the every day.
Kakadu is Australia. Saltwater crocodiles, eucalyptus trees, Aboriginal rock art and Dreamtime stories dating back 30,000 years. Thundering waterfalls and pristine swimming holes surrounded by sheer rock, in the middle of dry land. Come and see for yourself and gain a deep appreciation and understanding of the Australian land.
Things to do and see in Kakadu
Crocodile Cruise

There are thousands of saltwater crocodiles in Kakadu, and the chance to spot them lurking on riverbanks is high. There are multiple river croc cruises you can join, with the Yellow Water billabong being the most popular choice. Watch the predators propel out of the water and snap some memorable photos of the crocs in their natural habitat.

Nourlangie Rock

Take a spiritual journey back in time with a walk to the magnificent rock art at Nourlangie Rock art site. Join a tour with an aboriginal guide who will explain the images and artwork you see and tell you what story they each tell.

Fascinating rock formations that are also some of the best rock art displays in all of Kakadu.

Fly Above

See Kakadu from a bird's eye view to really grasp the size of the national park. There are helicopter and small planes offering scenic joy rides.

Hiking

There are hikes to suit all fitness levels in Kakadu. From short strolls to Jim Jim Falls, 3km treks to explore the wild wetlands, or 6-kilometre challenging hikes to natural rock art galleries and sandstone formations at Nourlangie or Ubirr. Longer walks are recommended earlier in the day before the heat peaks. Wear your walking shoes and bring plenty of water.

Bird Watching

The billabongs and water holes are home to over 300 native bird species. Over one third of the bird species in Australia are found in Kakadu – so avid bird watchers will be sure to spot something that will delight.

Fishing

The fishing opportunities throughout Kakadu will keep you busy and reeling in a great catch, including the favourite of the top end – barramundi. The tranquil environment that surrounds you as you cast a line is hard to beat.

4WD Adventure

Head to the road less travelled in your 4WD and see the true beauty of Kakadu. Whilst many of the main waterfalls and hiking trails can be reached in a regular car, those who have a 4WD can get a little more rugged and find magic hidden spots further in the park.
Best Waterfalls in Kakadu
Every waterfall you visit in Kakadu will be unique. The water from the falls cascades down into sparkling water holes – many that are perfect for swimming. You'll want to swim too – some of the walks to the falls will have you clambering over rocks and hiking a couple of kilometres to reach the destination.
Aboriginal culture in Kakadu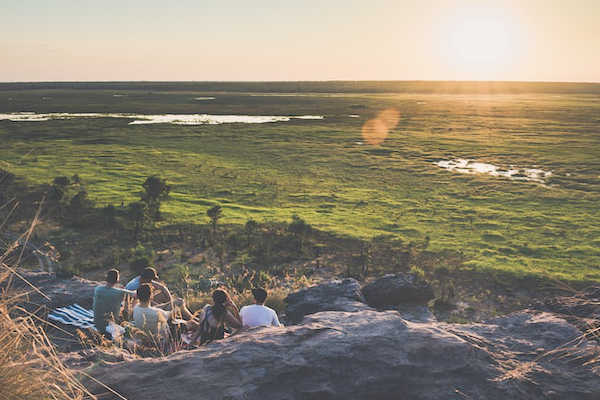 Kakadu has been home to Aboriginal people for over 30,000 years. Over this time, the tribes have held onto their traditions, Dreamtime stories and close connection to the land and sacred sites.
There is rock art dating back thousands of years. This art tells stories of the ancestors, the beginning of creation, religious and sacred ceremonies. Join a tour of the art and hear in-depth descriptions about the drawings.
There are billabongs aplenty in Kakadu, and an Aboriginal guide will tell you about the unique characteristics and uses of the flora and fauna found in and around these waterways.
Visit the Bowali or Waaradjan visitor centres to learn more.
Where to stay in Kakadu
The accommodation in Kakadu reflects the nature you are experiencing. Choose from campgrounds, safari retreats, lodges, and uncomplicated cabins. The staff at your accommodation can help with recommendations and tour bookings.
Kakadu accommodation:
Mercure Kakadu Crocodile Hotel
Cooinda Lodge Kakadu
Aurora Kakadu Lodge Camping and Caravan Park
Anbinik Kakadu Resort
For more accommodation options – and if you don't mind the 4-5-hour round trip – you will find plenty of resorts, hotels, camping grounds and lodges in Darwin.
Darwin accommodation:
Mindil Beach Casino Resort
The Cavenagh Hotel
Vibe Hotel Darwin Waterfront
Getting to and around Kakadu
This is the kind of place you don't want to be rushing from one place to the next. Many travellers prefer to take it at their own pace, visiting the sites and staying as long as they like.
You can join tours to have guides show you the best sites and take the stress out of planning the perfect itinerary. This is a particularly good option for travellers short on time.
Things You Need to Know About Kakadu
Swimming

Kakadu is Croc Country first and foremost. Care should be taken in all waterways, and crocodile signs need to be taken seriously. Only swim where it is safe to do so.

Wet Season

The wet season in the Top End can be quite disruptive as the rain falls heavy between November and April. The park remains open all year, however flooding and heavy rain can see some areas shut to the public.

National Park Pass

Purchase a park pass from information centres in Darwin or Jabiru to enter the park. The passes are valid for 14 days.

Sun Safe

The summer days in Kakadu can be very warm and harsh. Always wear a hat, sunscreen, seek shade as much as possible. Always carry water with you – some tap water is not suitable for drinking.
Kakadu Map