The 12 Apostles is one of Victoria's most astounding natural landmarks: a bizarre series of limestone formations that miraculously jut out of the raging sea below.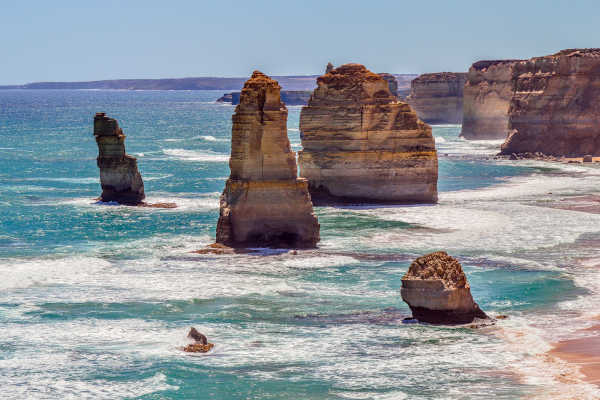 Locals and internationals alike flock to Port Campbell National Park, jostling for the best vantage point to see, and snap, this remarkable natural phenomenon!
The 12 Apostles, alongside the national park's other spectacular attractions, are just a three hour's drive southwest from Melbourne, traversing the incredible Great Ocean Road along the way.
So, now that we've got distance out of the way, let's take a look at what makes the 12 Apostles and the Great Ocean Road such a special place to visit…
The otherworldly Port Campbell National Park
The amazing 12 Apostles may be the main drawcard of the Port Campbell National Park, but it is not the only one, as the park is dotted with wondrous natural landmarks that draw in excited nature-lovers from across the world!
Highlights include the expansive Loch Ard Gorge, a stunning gorge and inlet that rolls in from the sea and frames its sparkling waters, or the Grotto, which when viewing through its bizarre outline wouldn't look amiss in one of the surrealist paintings!
Finally, be sure to check out the London Bridge, an amazing archway that, like its Apostle-esque neighbours, jumps right out of the Bass Strait.
Lush walks & Aussie wildlife at the Great Otway National Park
The Great Otway National Park is one of Australia's most beloved rainforests: a lush wilderness of giant eucalyptus, beech and blackwood trees, waterfalls and mystical ferns blanketing the forest floor.
There are plenty of exciting adventures to take part in here, including treetop walks, zipline adventures, nature watching (lookout for kangaroos and koalas!) as well as nature walks in abundance!
Chilling out in Lorne
No trip to the Great Ocean Road is complete without a visit to Lorne, one of Victoria's most elegant and vibrant seaside resorts. This beautiful town is the place to stop off for a delicious meal at a trendy cafe, hit the beach and even relax at the swanky Lorne Sea Baths.
There is also plenty of shopping, with stylish clothing shops, book and art stores lining the charming streets. It's truly the perfect town to visit on your exciting Great Ocean Road adventure!
Related article: What should you not miss on the Great Ocean Road?
Destination: Great Ocean Road

Duration: 1 Day

Tour type: Day Tour

Available Now

From $3400