Kakadu National Park is Australia's true natural wonderland, an enormous dreamscale of towering waterfalls, ancient art sites, sublime infinity pools and endless views.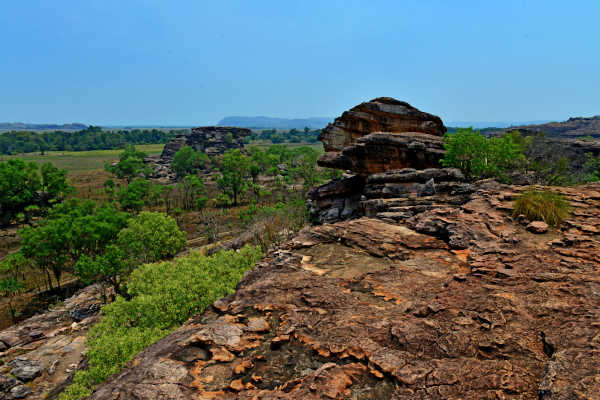 There is no better way to understand the otherworldly Australian outback than through a journey around Kakadu, where a stunning series of land formations, abundant wildlife and Indigenous heritage awaits you on your adventure.
The best way to see Kakadu is either by jumping onboard a 4WD (which can take you around the giant park) or via a tour, which will whisk you to the following, unforgettable wonders…
Nourlangie
Nourlangie is a massive sandstone rock formation intersected by a series of shelters and tunnels that have been used by the Gun-djeihmi people to escape thousands of wet seasons. Not only is the rock formation an impressive site from afar and within, but it's also home to one of Australia's most impressive rock art sites.
The Gun-djeihmi people have painted incredible works there for thousands of years, detailing Aboriginal Dreaming tales, ancient animals as well as introduced animals and European items. Nourlangie is the ideal place to start your mesmerising Kakadu adventure as it provides a most fascinating snapshot into the life and nature of the park!
Croc-spotting cruise
It's safe to say saltwater crocodiles are a long-time resident of Kakadu. After all, they are one of the world's prehistoric beasts, and have ruled the food chain in the park for eons! If you've ever wanted to see some of these fearsome predators in their absolute element then there is no better way than with a croc-spotting tour.
These amazing tours take you on a journey across the waters of Kakadu, where your knowledgeable guide will point out these toothy beasts and other local animals from the relative safety of the tour boat!
Dipping the Gunlom infinity pool
The Gunlom infinity pool is the most beautiful of its kind, that's right, we said it! The beauty of the surroundings, the gorgeous waters and the endless views across the park beat any high-rise hotel infinity pool from New York to Singapore, as there is nothing more spectacular than knowing this wasn't the brainchild of some trend-following architect – it's Mother Nature at its most sublime!
A hike up to the Gunlom infinity pool is so rewarding on multiple levels: the beauty of the pool, the stunning vistas on the way up and the unparalleled tranquility all combine to make a special Kakadu experience…
Related article: Is Kakadu Open in 2021?
Destination: Darwin

Duration: 1 Day

Tour type: Day Tour

Available Now

From $365